Sponsor Spotlight: RenovationFind
Feb 17, 2022, 18:46 PM
We're excited to have RenovationFind as a sponsor of the 2022 Calgary Home + Garden Show. Before you visit this innovative company at BMO Centre February 24-27, please enjoy our brief interview with the RenovationFind team below.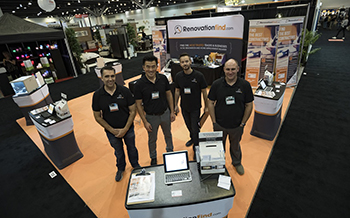 Q: How does your service work?
RenovationFind.com is a free online directory of home improvement companies, contractors, builders, and trades. The companies on RenovationFind.com pass a stringent screening process based on several important criteria. A third-party organization checks legal and financial history, ensures a valid business license, insurance, WCB coverage, and monitors online customer reviews. The third-party organization continues to monitor each business on the site to ensure they keep up to our high standards. Companies that are members of the Better Business Bureau will receive a higher ranking on the directory.
We created RenovationFind to help homeowners find skilled, reputable, and trustworthy contractors for their home improvement projects. When they go on the website, they can trust that the companies listed have been screened and will provide quality work and honest service. Whether you're looking for the best landscapers in Calgary, a bathroom contractor, or an HVAC company, you'll find a certified company on RenovationFind.com. We love helping homeowners and promoting the worthy home improvement companies and contractors in Calgary.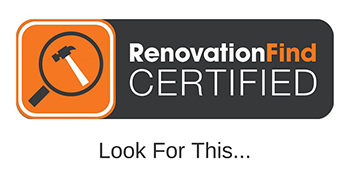 Q: What can we look forward to from you at the Calgary Home and Garden Show?
Our team will be at our booth at the show, and we're really looking forward to seeing people and showing them what we do! At the booth, visitors can post their home projects on our website. Then, we will send those project details to three relevant RenovationFind Certified companies. Those companies will contact the homeowner directly if they need more information about the job and provide a quote for the work. For example, if you need to find a company specializing in bathroom renovations, we will send their project details to three of the best bathroom renovation companies in Calgary. Getting a quote is the first step of any home renovation.

We are also running a fun giveaway at our booth! Come see us at the show, and sign up for a RenovationFind membership. We'll put you in a draw for a new iPad and $1,000 cash. With your RenovationFind membership, you will get exclusive access to promotions and discounts from our Calgary partner companies.
Q: What advice do you have for homeowners?
Before hiring anyone to work in your home, always do a lot of research first. Ask to see their business license, proof of liability insurance, and Worker's Compensation Board coverage. A reputable company will have no problem showing you these credentials. If you ask for references, ask to speak to the last three customers they worked for. Then, they can't just choose their best jobs, and you'll get a better idea about the company and their work.
When you get quotes, they should be detailed and in writing. You want to see exact costs for all aspects of the project. You should also get a clear, written contract for the job. If a company doesn't provide these things, you should look elsewhere.
Q: What inspires your services?
I've worked in the home improvement industry for a long time. Over the years, I've heard countless stories about homeowners getting ripped off by bad contractors. I've heard negative stories about people being overcharged, paying a deposit and never hearing from the contractor again, or being left with terrible or unfinished work. RenovationFind helps stop these things from happening. Homeowners now have a resource to find trustworthy, experienced contractors that provide high-quality work and customer service.
Q: What is your favourite part of the Calgary Home and Garden Show?
Our favourite part of these shows is meeting homeowners and making those connections with the companies on our website. We want to improve the reputation of the renovation industry by showcasing the good companies and sending customers their way. The Calgary Home and Garden Show allows us to help both homeowners and worthy companies. It's a win-win for everyone.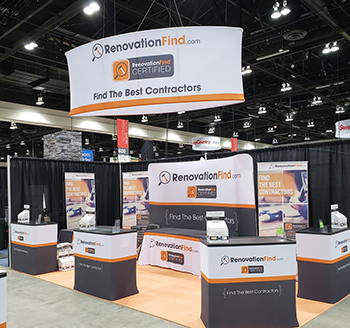 Q: Do you have any success stories you'd like to share?
We get feedback from homeowners that they've had a positive experience working with RenovationFind Certified companies. We've heard many stories of successful renovations and how finding a company on our website helped reduce stress and make things a lot easier. We also share in the success of the companies listed on our site. RenovationFind offers a range of digital marketing services that helps our companies gain exposure and generate traffic in their area. They get quality leads and jobs through the website. Both homeowners and companies have had success with the connections made through RenovationFind.
Q. What can people expect when they work with you?
For homeowners, they can have peace of mind knowing that the company they've hired has gone through a thorough certification process. You can browse through several home services categories, including the best roofing companies in Calgary, plumbers, siding contractors, painters, interior designers, cabinet companies, flooring installers and many others.
If you're a home improvement or home services business looking to grow, RenovationFind helps improve online presence, search engine optimization, and web traffic. We use email marketing, blogs and content marketing, social media marketing, and search engine targeting to get their RenovationFind profile and content in front of homeowners. Also, being RenovationFind Certified will help brand your business as one a homeowner can trust. That is key in today's market. As a result, RenovationFind companies can get more work and their businesses grow.